Gracious accommodation in the North-West Province of South Africa
Sela-Mod Village Guest House is an upmarket, luxury guesthouse. It is a three star facility providing the ultimate in African hospitality. The guesthouse lies on the outskirts of Rustenburg, in Chaneng village, about 7km from Sun City. It is situated in close proximity to world-class attractions such as the Pilanesberg National Park, Sun City, the Royal Bafokeng Stadium and various platinum mines.
We are perfectly located for a weekend break or a leisurely holiday, and provide a unique opportunity to experience village life. Sela-Mod Village Guesthouse is ideal not only for tourists, but also for business travellers who are looking for a home away from home. For short or longer stays, we are here to meet each of our guests needs.
Our guesthouse is equipped with eight stylish and comfortably furnished rooms, with beds made up in fine percale and Egyptian linen. There is a communal dining area in the main house where we serve scrumptious meals, as well as a lounge for social gatherings. We have a number of tranquil outdoor areas including a picnic area, BBQ facilities and a lush green garden. We also cater for meetings, private functions and conferences, and create tailor-made experiences based on your individual requirements.
​Our friendly and hospitable staff contribute to a relaxed atmosphere which attracts both national and international guests. We invite you to share our enthusiasm for the area and to experience the elegance and comfort of Sela-Mod Village Guesthouse. Our highly competitive rates make our guesthouse in Chaneng the perfect place to stay.
Languages spoken: English and all African languages.
Check-in is between 14h00 and 18h00.
The establishment is non-smoking.
Accreditations
– Tourism Council of South Africa (graded)
– SA Accommodations (listed)
– Fedhasa (listed)
– AA Quality Assured Accommodation (listed)
Your host: Sela
Sela's personal touch is evident through the contemporary and classic interiors of the guest house. She believes that 'home is where the heart is', and the heart loves connection. Her personal values include passion, commitment, creativity, teamwork, excellence, and absolute professionalism.
All our rooms have private bathrooms, air-conditioning, television (DSTV), free wifi, tea/coffee making facilities, electronic safes, electric blankets (winter), garden views, free parking and are non-smoking. Selected rooms include amenities such as private entrances, hairdryers, desks, microwaves and more. Please enquire when booking.
DELUXE
Room size 65m²
With bath
FROM
R1100.00
per room
Room 7
DELUXE DOUBLE
Room size 68m²
With bath and shower
FROM
R990.00
per room
Room 4
DELUXE DOUBLE
Room size 65m²
With bath
FROM
R990.00
per room
Room 3
DELUXE WITH LARGE DOUBLE BED
Room size 65m²
With bath and shower
FROM
R1100.00
per room
Room 6
DELUXE QUEEN
Room size 45m²
With bath and shower on bath
FROM
R1100.00
per room
Room 8
DOUBLE
Room size 65m²
With shower
FROM
R990.00
per room
Room 1
DELUXE DOUBLE
Room size 40m²
With shower and bath
FROM
R1100.00
per room
Room 5
SMALL TWIN
Room size 35m²
With shower
FROM
R750.00
per room
Room 2
Breakfast & dinner
A buffet breakfast or dinner is available on request. Booking in advance is essential.
Conference & meeting facilities
Conference facilities are available for 10 to 100 delegates. All our conference rooms are fully equipped with air conditioners and white screens or projectors and LED screens. Contact us to address your individual requirements.
Private functions
Book the entire guesthouse and host your special function with us. Bridal and bachelor parties or baby showers –all welcome. Please contact us to ensure that your occasion is unique and memorable.
Free Wifi
Wifi is available in all rooms and throughout the guesthouse, free of charge.
Daily housekeeping
Rooms are serviced daily.
Laundry and ironing services are available at additional cost.
Additional services
Shuttle service, office amenities, secure parking, braai facilities.
Please use the arrows to scroll through the gallery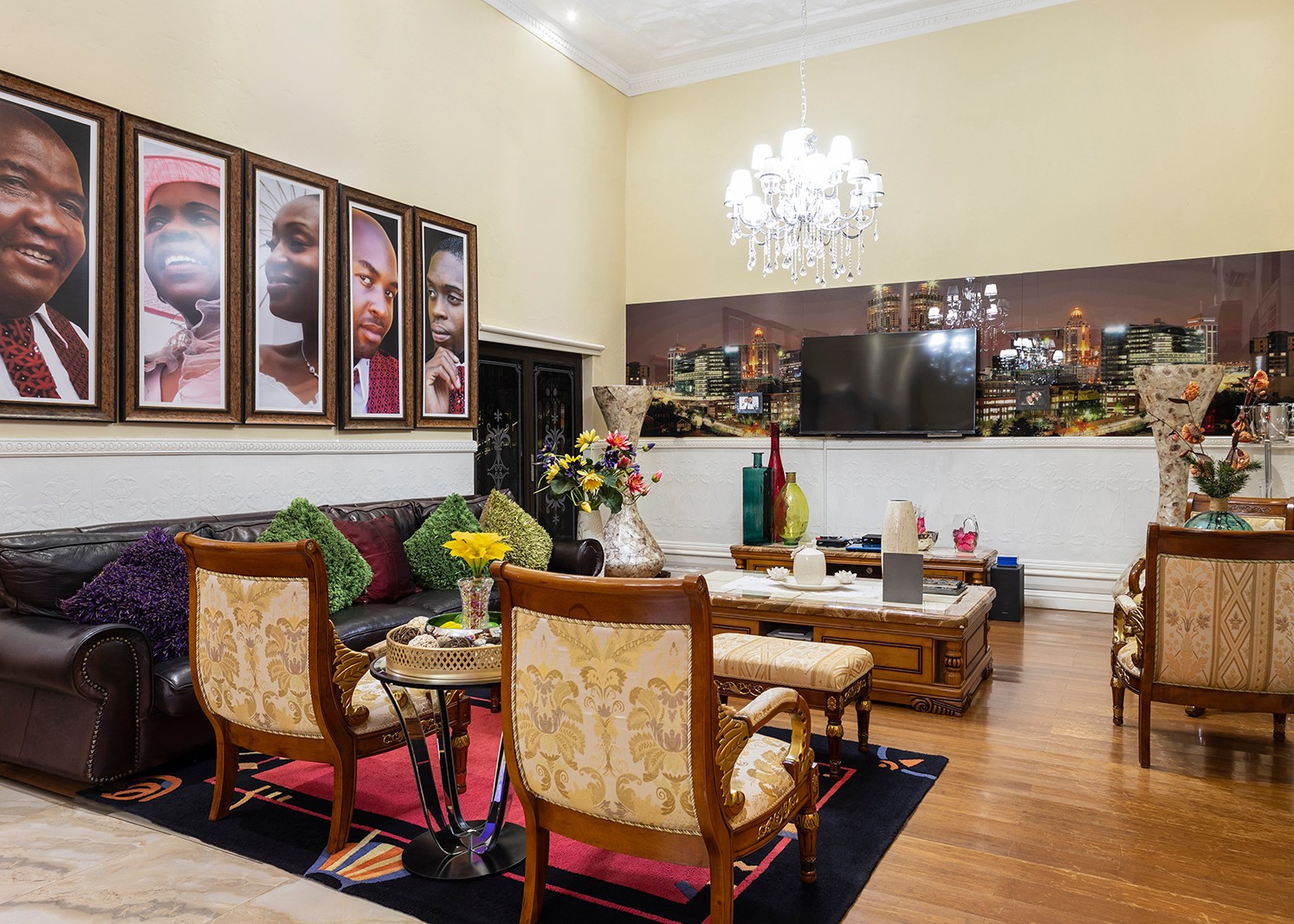 Valley of the Waves
Sun City's world-class water park
offers a beach with roaring waves and
a range of water activities that appeal
to all ages.
Sun City entertainment & casino
The entertainment centre encompasses restaurants, retail outlets and a variety of entertainment options.
Sun City Casino offers gaming, including slots
and tables.
Pilanesburg National Park
This national park promises all the excitement of Big 5 game viewing in a malaria free area. Options include guided or self-drive game drives and walking safaris.
Golf
Sun City presents two world-class golf courses designed by Gary Player, and played by the biggest names in golf. The annual Nedbank Golf Tournament is a main attraction for fans of the sport.
Cultural tours
The Mphebatho Cultural Museum offers you a chance to view and participate in the unique culture and history of the Bakgatla-Ba-Kgafela community living around the Pilanesberg mountains.
Hot air ballooning
Experience the wonders of the Pilanesberg National Park in a hot air balloon – a thrilling perspective of the landscape and herds of animals such as antelope, buffalo and elephant.
"Sela met us for check in and was lovely! The pictures don't do the place justice. Everything was super clean, amenities laid out for us upon arrival, and the bed was comfy with lots of good quality pillows. The location is easily accessible to the Pilanesburg game reserve, where we spent a couple of days on early morning game drives. Highly recommended, close to Sun City and some of the game resorts, able to access everything Pilanesburg offers!"
"Breakfast was excellent and we requested a takeaway as no restaurant can offer, delicious. We were really pleased with our stay at
Sela-Mod village guest house, tidy rooms and quiet . Excellent place to stay any season. Security was perfect. Staff communication was exceptional and friendly."
"The accommodation was well maintained and extremely clean. Very comfortable beds. We had one room with a normal bathroom and one with a deluxe bathroom – very nice. The staff was very friendly and helpful, our requests were best fulfilled and we felt very welcome. The offered breakfast was very good and was a little modified for us Germans."
"Thank you for the lovely weekend we spent at your guesthouse, myself and my wife really appreciated it."
CONTACT US
Contact us or book at booking.com
South Africa: 082 937 4899 | 078 437 5199
International: +27 82 937 4899 | +27 78 437 5199
Sela-Mod Village Guesthouse
GPS: S 25°24.870′ E 027°07.527′
828 Matshela-Pata Section, Chaneng Village, North-West, South Africa